SIP account options
admin
Accessing the SIP account options
In order to access SIP account options click on the settings icon:


SIP account options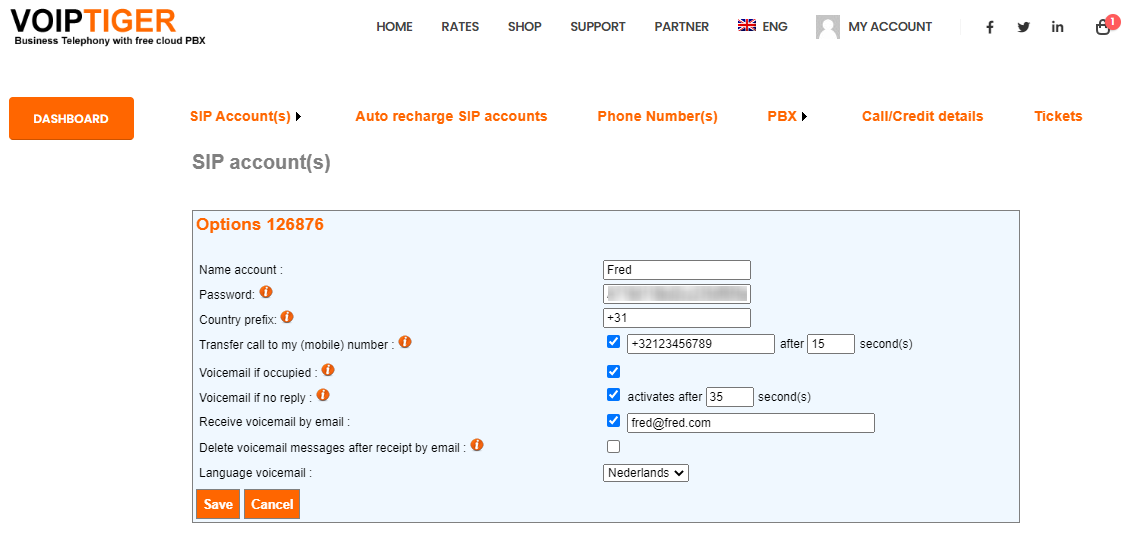 Name account
User friendly name for your account.
Password
You can change the SIP password here if needed.
Country prefix
Here you can set the prefix of your country so you can make local calls.
Example:  is you set +31,  you can dial Dutch local number without leading +31 or 0031 like 0102671621.
For Belgium you may leave this empty as by default local Belgian calls are accepted.
Transfer call to my (mobile) number
Transfer call after x-seconds to the desired number.
Enter your (mobile) number in international format.
Voicemail if occupied
Send caller to your voicemail if you are in another call.
Voicemail if no reply
Send caller to voicemail if call is not answered after x-seconds.
Receive voicemail by email
Fill in the email address to which voicemail messages will be send.
You'll receive the voicemail message attached as an audio file.
Delete voicemail messages after receipt by email
Use this option of you don't want to keep voicemail messages on our server.   Normally you check this when using voicemail to email.
Language voicemail
The language of your voicemail message options.